I intend to gather some Holderer family geneaological information and place it here, but in the meantime, here are some very old pictures for your perusal. More pictures will be added too.
---
My great-great grandfather and grandmother, August and Bertha (née Morf), around 1920, Rochester, New York, USA.
August was from Germany, Bertha from Switzerland.
The Holderer house in Germany? If so, this picture is from around 1890 and was taken in Kippenheim, Baden-Württemberg, Germany.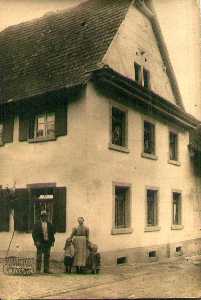 ---
If you are a Holderer (not one I know of) I want to hear from you! Click on the link below and let's figure out how we're related.